1. Our continuing mission…
For many of us, the beginning of a new year is an opportunity to reflect on where we've come from and where we want to go in the months ahead. Over the past twelve months, we experienced a number of significant changes at The Federation and, through a lot of hard work and perseverance on the part of our board of directors and staff team, we also accomplished some very important things on behalf of our members and the sector at large.
I expect 2020 will be just as busy as we build on these new opportunities, strengthen relationships, and work even harder to create the kind of strong and sustainable community social services sector this province needs. We have a lot of work ahead of us. But we are also on the brink of some new and exciting opportunities and I'm looking forward to what the new year will hold.
2. Changes at The Federation
Over the past few months, there have been a few changes among The Federation crew and I want to take this opportunity to update our members and stakeholders about the intrepid individuals that make up this amazing team.
After 5 years with The Federation, Kathy Powelson, our Member Services Coordinator, will be leaving at the end of February. Kathy will now be the full-time Executive Director of Paws for Hope Animal Foundation, an organization she founded and has been running as a volunteer for 8 years. The work of Paws of Hope has many intersections with the social services sector—in particular, the low-barrier clinics they offer for vulnerable people and their pets as well as the organization's "No Animal Left Behind" program which works to ensure that people leaving abusive relationships are not forced to choose between their own safety and keeping their beloved pet. We wish Kathy all the best in her future work!
In the fall, Taylor Logan was promoted into the position of Director of Administration and Finance. Taylor has been with The Federation for three years and has been a valuable asset for much of what we do. I am thrilled to see her take on increased responsibility for the day to day operations of this organization.
Taylor is joined on our admin team by Corinne Kornelson, our new Executive Coordinator and board liaison, and Erin Mallette, our new Administrative Assistant. Although everyone is relatively new to their positions, the office team is already up to speed, in control, and they are more than ready to assist our members whenever and however they can.
Earlier this month, Rebecca Ataya Lang was made Associate Executive Director. Rebecca has been with The Federation since 2010 in a number of different roles. This new position offers a more strategic focus allowing her and Rick to work more closely on both the advocacy efforts of The Federation as well as revenue generation in order to grow our capacity and influence as an organization.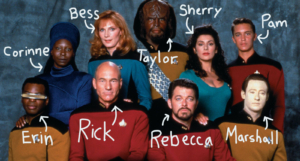 This more recent shift meant we also welcomed Sherry Sinclair to The Federation team where she will take over as Director of Programs and Services. Sherry will be a familiar face to many Federation members from her time with the Family Resource Association of BC. Sherry brings a deep knowledge of family programs, the early years sector, program development, coaching, and leadership to our talented and capable crew. We are thrilled to have her join us as we move forward together.
And, though their roles haven't changed, we continue to be thankful for long-time Federation team members Pamela Alcorn (Policy and Research), Marshall Watson (Communications), and Bess Williams (Events)! Contact information for all Federation staff is available on our website. Don't hesitate to reach out to any of us.
With this team in place, I feel very well-prepared to face the work we have ahead of us. The entire Federation team will be at the February Social Policy Forum so please feel free to introduce yourself. I'm looking forward to seeing you all in Victoria next month!
Rick FitzZaland
Executive Director
https://fcssbc.ca/wp-content/uploads/FCSSBC-Logo.png
0
0
Marshall Watson
https://fcssbc.ca/wp-content/uploads/FCSSBC-Logo.png
Marshall Watson
2020-01-30 21:15:19
2020-02-24 21:24:20
A new year at The Federation: Changes & Opportunities