Investing in Services, Supports & Sustainability
The Federation's presentation to the Select Standing Committee on Finance and Government Services
Every year, The Federation makes a submission and presents to the Select Standing Committee on Finance and Government Services. These consultations are an opportunity for individuals and organizations to share their thoughts, ideas, and priorities regarding provincial services and funding decisions in next year's budget.
This week, I stood before the committee and urged them to invest in addressing inequities for Indigenous organizations, invest in improving supports for children and families, and invest in the sustainability of our sector. Our three recommendations and an excerpt are below, but you can read the full text of our submission, recommendations, and supporting arguments on our website.
Continue to demonstrate a commitment to reconciliation and decolonization of social services by working to address funding inequities that exist for Indigenous, off-reserve service providers.
Continue to demonstrate a commitment to reconciliation and decolonization by making new investments in services and supports for children in care.
Continue to invest in the sustainability of the social services sector by addressing the rising cost of business pressures that organizations are facing and build this into base contract dollars.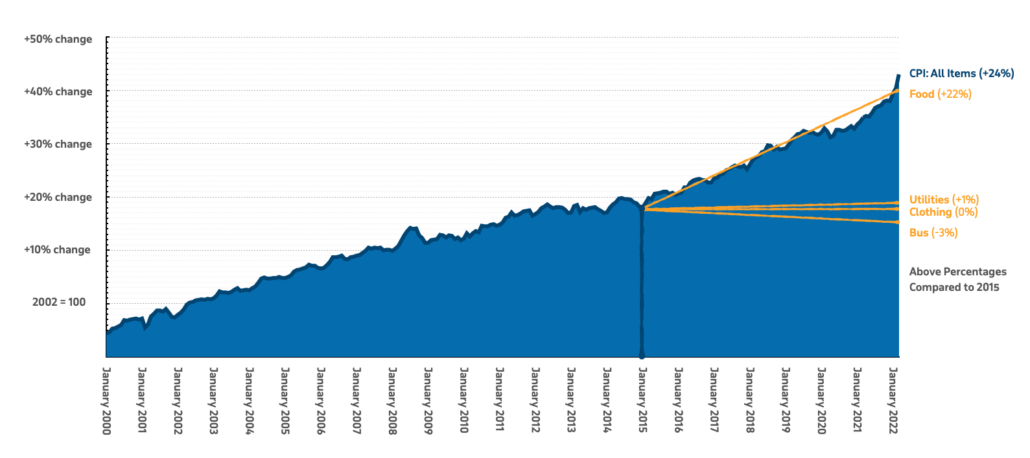 "The chart above shows the rate of inflation in BC since 2000 (2002 = 100) according to the Consumer Price Index (CPI). The orange lines represent the change in contract funding for one Federation member's youth residential program in the Fraser region from 2015 to 2022. Food is the only budget item where contract funding has even remotely kept up with program costs.
We believe a modest and fully supportable investment should be an immediate 5% baseline increase for all contracts. And future contracts should be indexed either to the rate of inflation or a comparable metric. Other models for indexing contracts and payments to keep up with the cost of living exist throughout the province. (For example, the UBC Staff Pension Plan payments increase at a rate of 50% of the change in the Consumer Price Index each year; BC's Municipal Pension Plan increases based on the annual change in the CPI to a maximum of 2.1% for 2020-2022.) Such an investment is not only deserved but necessary and long overdue."
Have Your Say
You can still participate in these budget consultations by providing written comments or by filling out the online survey between now and June 24th. Consider using the same recommendations as above. Contact us for past submissions that The Federation has made and use the same language, arguments, or key messages.
This government is listening and paying attention to our sector for the first time in a very long time and we must do our best to take advantage of opportunities like this. The entire Federation team is doing its very best to represent your interests and advocate on your behalf and if there is anything we can do to help you support and advocate for each other, please let us know.
Rick FitzZaland, Executive Director
rick@fcssbc.ca
https://fcssbc.ca/wp-content/uploads/chart_img.png
333
500
Marshall Watson
https://fcssbc.ca/wp-content/uploads/FCSSBC-Logo.png
Marshall Watson
2022-06-09 18:07:05
2022-06-24 18:11:21
Investing in Services, Supports & Sustainability