Register to get your COVID vaccine
Over the next few weeks, a significant increase in vaccine supply will become available to British Columbians. More than 1 million doses of the Pfizer vaccine are set to arrive in May. As such, the province is accelerating its vaccine delivery to people throughout the province to get vaccines into arms as soon as possible.
"With each person who is vaccinated, we are all safer. Let's continue to do our part – to get vaccinated when it is our turn, use our layers of protection and follow all of the public health measures we have in place."   – Dr. Bonnie Henry
The best way to ensure your vaccination and reserve your vaccine dose is to register on the Get Vaccinated website or by calling 1-833-838-2323. Everyone 18 and older should ensure they do this right away.
Getting vaccinated is easy and safe. And you can help even more by passing on this information to your colleagues and helping your friends and family complete their registration, book an appointment, and get the vaccine as well. If you would like copies of the print-ready posters below to put up in your organization, please email marshall@fcssbc.ca.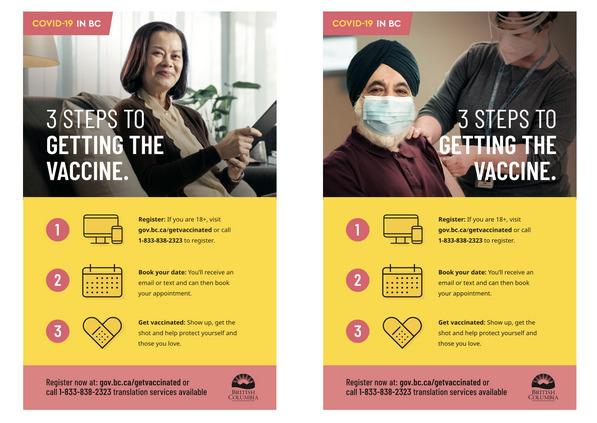 You can learn more about how to get vaccinated, what information you need to register, what to expect at the vaccine clinic, and more all right here. Additional updates for specific groups and populations are highlighted below.
BC Immunization Plan Updates
Member Webinar: Vaccine Info for Employers
Please join us on our next 'COVID-19 and Your Organization' call on May 13th at 10:15. We will be joined by Natasha Jategaonkar from Mathews Dinsdale Human Resources Lawyers who will speak to vaccination employee privacy and answer questions from members. You may also find helpful information in their previously-recorded webinar: COVID-19 and Vaccines: What An Employer Needs to Know.
The webinar for Federation members will take place on Zoom from 10:15 to 11:15 next Thursday. You can find all the details and information about how to participate on our Webinars page. The 'COVID-19 and Your Organization' calls are open to everyone; notes and recordings are shared on the private Member's Page of The Federation website.
The Federation is in close communication with Immunize BC and will continue to be informed when pop-up clinics happen and will pass this info along to members. If you have any other questions or concerns, do not hesitate to contact me.
Sherry Sinclair
Director of Programs & Services
https://fcssbc.ca/wp-content/uploads/FCSSBC-Logo.png
0
0
Marshall Watson
https://fcssbc.ca/wp-content/uploads/FCSSBC-Logo.png
Marshall Watson
2021-05-06 21:47:36
2021-06-02 21:50:03
Register to get your COVID vaccine