A few months ago, The Federation re-launched our Research to Practice Network with an excellent summary of a long-term study about street-involved youth. This month, we are excited to release another great piece of learning for those of us working in the social care sector.
"Daughters of Honour"
In this new article, Mandeep Kaur Mucina, a professor in the University of Victoria's Faculty of Human and Social Development, revisits the work of her Ph.D. dissertation exploring first-hand experiences of gender-based violence in relation to cultural conceptions of "honour" and the transgression of honour-related boundaries.
The article examines the many ways in which honour-related violence has been attached to particular bodies and communities in Canada and discusses the impact of this violence on second-generation immigrant women, their families, and communities.
The article is interesting and insightful and includes findings from a number of first-hand interviews to explain the lived experiences of these women. The article concludes with lessons, strategies, and considerations for front-line child and youth care staff who work with diverse women and girls who may be encountering family and/or gender-based violence.
You can access and download the article on The Federation's Research to Practice page right now. (You can also review past articles and an archive of Research to Practice publications from 2008 and 2013).
As always, if you have feedback about this member service and/or how we can improve it, please let us know. There's a lot of information and research out there and The Federation is committed to keeping our members informed and engaged as best we can.
Get involved! Community organization staff…
Is there an area of practice your staff members are keenly interested in? Is there a community issue or aspect of service delivery that your team wants to better understand? Help guide the direction of the Research to Practice Network by identifying topics and issues for future articles. Contact Marshall Watson at The Federation office with your ideas and input!
Get involved! Post-secondary researchers…
The Research to Practice Network is inviting professors, students, and researchers to submit short articles and research summaries that can help improve front-line service delivery in BC's community social services.
If you know of and/or are working in areas related to reconciliation and decolonizing practice, youth in care, early years, leadership development, child and youth mental health, residential care, autism, housing, seniors, substance use, resiliency, or training and supervision of staff, please contact us!
And help us get the word out by circulating this call among your students and faculty members. If you are interested or have any questions, please contact Marshall Watson at The Federation office.
Rick FitzZaland
Federation Executive Director
Download the Report
Click on the cover image below to view and download the report!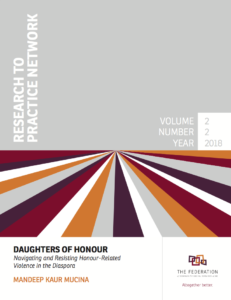 https://fcssbc.ca/wp-content/uploads/FCSSBC-Logo.png
0
0
Marshall Watson
https://fcssbc.ca/wp-content/uploads/FCSSBC-Logo.png
Marshall Watson
2018-10-04 19:09:33
2019-09-09 19:41:35
The Research to Practice Network: Gender-Based Violence and Ideas of Honour