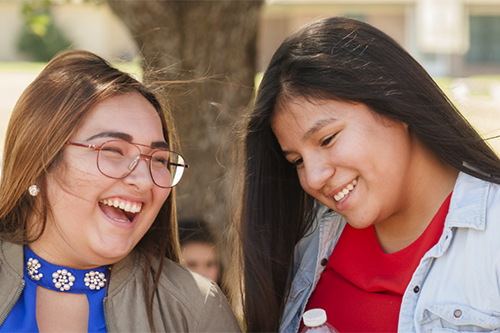 The Federation's Youth Education Bursary was one of the things that most strongly drew me to this organization before I joined this team many years ago. And once I took on the role of Executive Director, the bursary program and what it stands for inspired and motivated me in significant ways.
That's because the Youth Education Bursary is more than just a dollar amount of financial support. Yes, that is a very important part of the program. It offers young people in care a "yes" in what is too often a lifetime of hearing "no" over and over and it makes post-secondary education more accessible.
But the other thing that Federation members were striving to do when they created the bursary was to welcome a new generation of caregivers and practitioners into our sector with support and with love.
The Federation's Youth Education Bursary recognizes young people as more than simply their experience in government care. It sees their potential and it helps them reach it. And by supporting the bursary and helping us reach as many young people as possible, you—our members—are continuing to do just that.
Recruiting and retaining staff is a challenge at all levels of your organization. The bursary program was and is an intentional effort to create a new pathway into our field for those who fully understand the issues we're attempting to address.
Applications open now
Bursary application forms (and a link to other resources for young people) are available on our website. The deadline to apply is May 6, 2022. Please share this information with young people in your life and others who help support BC's youth in care. The eligibility requirements now include young adults up to the age of 30.
Going to post-secondary and filling out applications and paperwork can seem complicated. One way for these kinds of applications to seem less daunting for a young person is to have a kind, caring adult work on it with them. So please offer your help to anyone completing the application.
Help spread the word
Over the past few years, our province has made strides in supporting youth in care through things like tuition waivers. While those are very much steps in the right direction, they aren't enough on their own—especially since the eligibility criteria for tuition waivers will only help some of BC's former youth in care.
I encourage you to help us raise awareness about the Youth Education Bursary by displaying a poster in your office or staff room or online. You can view and download the PDF poster here. Spread the word among your networks, on social media, and pass on information to youth in care, people who work with youth in care, and former youth in care.
Thank you
In closing, I want to sincerely thank all of our members for their ongoing support of this important and meaningful program. Your commitment to the bursary program and the growing community of youth working their way into our sector are perfect examples of what Altogether better is all about.
Rick FitzZaland
Executive Director
https://fcssbc.ca/wp-content/uploads/bursary_post.png
333
500
Marshall Watson
https://fcssbc.ca/wp-content/uploads/FCSSBC-Logo.png
Marshall Watson
2022-02-03 22:40:59
2022-04-01 22:41:53
Youth Education Bursary