The Federation's Annual General Meeting Recap
Thank you to everyone who attended The Federation's 2022 Annual General Meeting in Penticton last week. It was our first time meeting in person in over two years and it was wonderful to see so many familiar faces—as well as some new ones!
For those of you that couldn't make it (and for those of you that were able to attend but would like a recap—or maybe needed to step away briefly), below is a brief rundown of the most important Federation business that was taken care of.
2022 Federation Annual Report
New Board of Directors
Retiring Board of Directors Members
New Federation Members
Retiring Federation Members
Special Guests & Presenters
We are very appreciative of all of you who made the trip to join us in person in Penticton! We were so happy to see so many members and friends in person once more and we look forward to seeing you again in October!
We released our 2022 Annual Report
We shared our 2020 Annual Report with members and Federation Executive Director Rick FitzZaland spoke about the work The Federation has focused on over the past year—in particular, our advocacy efforts, our collaborative initiatives, and our work to strengthen and increase the capacity of our sector. You can view the Federation's 2020 Annual Report here.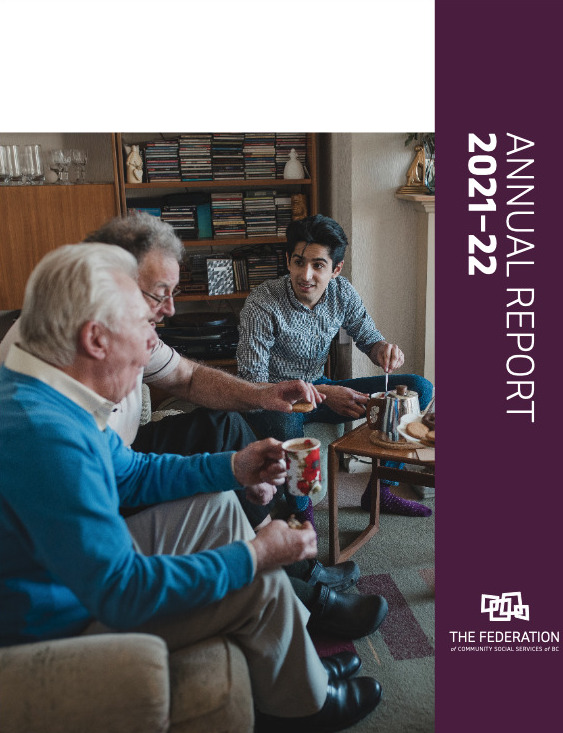 "When you get right down to it, this work is about being
there for others when they need someone. This sector is
made up of people who are helpers, who welcome sharing
both joy and pain, and who want to work together to make
things better for others. And our organization is increasingly
relevant and strong and effective because of those connections,
because of that compassion, and because of the way we
work together."
We welcomed the 2022 Board of Directors
The Federation Board of Directors volunteer to serve on The Federation's board, guiding our organization, on top of running their own agencies across the province. We are very grateful for the hard-working and committed board members who have stepped up to contribute their time, energy, experience, and expertise in the service of our organization, our members, and all the people and communities of BC
Kendra Gage, President
Tim Veresh, Vice-President
Tanya Behardien, Past President
Julia Staub-French, Secretary-Treasurer
Jeremy Welder, Interior Regional Director
Kari Hutchinson, Vancouver Island Regional Director
Maria Howard, Vancouver Coastal Regional Director
Sherry Beal, North Regional Director
Vicki Kipps, Fraser Regional Director
Liz Barnett, Director at Large
Christine Mohr, Director at Large
Karen Dickenson Smith, Director at Large
We also thanked outgoing board members David Young, Ann Kutcher, Kelly Kelland and Gwen Cardinal for their commitment and service to Federation members over the past years.
We welcomed 7 new members
As Federation President Tanya Behardien and Executive Director Rick FitzZaland note in their introduction to the Annual Report, our organization is increasingly relevant and strong and effective because of our membership—the connections you make with each other, your compassion, and the way we work together to improve life for our children, families, and communities. We are thrilled to have the following seven organizations (and their representatives) join us in this work.
Full Members
Burnaby Family Life (represented by Navreen Gill, ED)
Child Advocacy Centre of Kelowna Society (represented by Ginny Becker, ED)
Covenant House Vancouver (represented by John Harvey, Chief Program Officer)
Associate Members
John Howard Society of BC (represented by Mark Medgyesi, ED)
City University in Canada (represented by Chris Burt, Director of Continuing Education)
PAN (formerly Pacific AIDS Network) (represented by Evin Jones, ED)
Volunteer BC (represented by Lawrie Portigal, President)
We recognized retiring Federation members
This year, we recognized retiring members Janice Murphy and Kelly Kelland and Lisa Kushen for their amazing leadership and work on behalf of the community social services sector. We wish them all the best in her much-deserved retirement!
We enjoyed some excellent speakers
Honourable Mitzi Dean, Minister for Children and Family Development, joined us at the Annual General Meeting to speak to members ad recognize the work that we do. The day before, at The Federation's June Conference, Dr. Bruce McIvor gave the group lots to think about when it comes to reconciliation, rights, and the law and Cathy Taylor shared key lessons and insights from the pandemic that we can use going forward. We were also honoured to have the children from Outma Sqilx'w Cultural School open the conference with their sharing of songs in Nsyilxen.
Rick FitzZaland, Executive Director
rick@fcssbc.ca
Rebecca Lang, Associate Executive Director
rebecca@fcssbc.ca
https://fcssbc.ca/wp-content/uploads/board_sm.png
333
500
Marshall Watson
https://fcssbc.ca/wp-content/uploads/FCSSBC-Logo.png
Marshall Watson
2022-06-23 18:13:00
2022-06-24 18:39:12
The Federation's Annual General Meeting Recap